30 years ECONO-PAK GmbH
juli 14, 2015
Hand in hand under new management
Company ECONO-PAK GmbH celebrates a very special anniversary this year: For 30 years the family owned business has been a successful manufacturer of packaging machines and complete packaging plants not only in Germany but also in the international market. Since its founding in 1985, the ECONO-PAK GmbH has established itself as a leading manufacturer in the market for packaging machines and counts many well-known companies among its customers.
In September 2012, Helmut Seidel, founder of the company, handed over the commercial management to his son-in-law Cornelius Arzt. Family is a top priority at ECONO-PAK. That is also demonstrated by the fact that the two sons, Jens and Dirk Seidel, are both managing directors and responsible for technical management internal and external since 1998.
For Helmut Seidel the change of leadership is a logical consequence. Technology and technique changes, so do generations. It is not a matter of reinventing the wheel, rather, ECONO-PAK will reflect in the future on the values of a family business that stands firmly with both feet on the ground and behind it a big and strong team of dedicated and expert staff.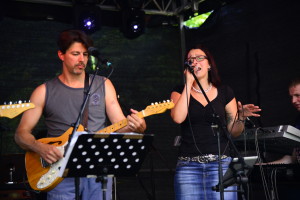 As part of this year's Summer Festival, which was held in the "Alte Festhalle" in Flonheim, the jubilee celebration of the 30th anniversary of the company was celebrated as well. In the spirit of a family business, all employees were invited together with their families. Numerous colleagues gladly accepted the invitation by the management. This year a delicious barbecue buffet was offered and the performance of a live band provided a great atmosphere and lots of fun.