Trade Fair Review Interpack 2017 in Düsseldorf
mei 22, 2017
A great trade fair is over!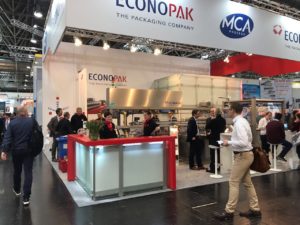 The Interpack 2017 in Düsseldorf was a complete success for the whole ECONO-PAK Team as well as for our sales partner MCA from France. The modern booth concept in Hall 11 once again proved to be a perfect meeting place for visitors from all over the world. The booth, furnished in a lounge style, exudes a casual and welcoming atmosphere.
In addition to the management and our sales team, four new trade fair team members were present, who from the outset were super-integrated and participated with full motivation at the fair. Through a casual outfit, with sneakers and logoshirts, the entire team sparkled and perfectly rounded off the overall concept of the trade fair appearance. Although Hall 11 is a mixed hall with suppliers from a variety of industries, a large number of regular customers and interested parties came by to seek personal contact and to keep up with the latest state of the art in packaging technology. Especially a large number of international visitors followed our invitation to the Interpack 2017. This resulted in many interesting discussions and new business contacts. Specific inquiries could be generated as well.
The presented horizontal cartoning machine with automatic robotic loading in the form of a Pick&Place unit also contributed to this. The Pick&Place unit, developed, built and programmed by ECONO-PAK's French sales partner MCA, showed how filled cans can be inserted into the cassette conveyor of the horizontal cartoner. This machine solution enjoyed popularity of customers and visitors and proved to be 100% right. Thanks to the solid machine presentation, new requests and projects can now be processed.
The team was particularly pleased with the award of a new machine order directly on the booth.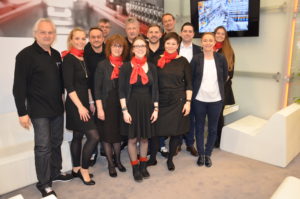 ECONO-PAK thanks all fair visitors for the interest shown and the good discussions held. A big thank you goes to the team of MCA for the energetic support at the trade fair.